Remember those halcyon days before social distancing? When we could all crowd into an escape room together and spend our time looking for clues and solving puzzles. The whole family could be entertained and businesses could tackle their team building requirements. Unfortunately that'll have to remain a fond memory, as we're still unable to visit real life escape rooms.
Forget The Traditional Escape Room
In the traditional escape room scenario, you're all locked in a room together seeking the clues and answers that'll help you all escape before the time is up. At this point you're probably wondering how on earth can you play an escape room game without everybody being in the same room together. But thanks to the wonders of the internet, we're still able to host and play escape room games online. So you can now experience the thrill and excitement of playing but from the comfort of your home.
Create your Own Escape Room Online
If you're feeling creative and have a lot of time on your hands, then you have all the resources needed to make a great online escape room game and they're just a couple of clicks away on your computer. But be warned. It's not an easy thing to make an escape room game where all the clues and puzzles actually go together seamlessly. After all, you don't want your players to get stuck because a particular clue hasn't been thought through properly. So make sure that your tasks, puzzles and their solutions are not too overly complicated. But if you're feeling up to it, then go ahead and create your own online escape room and then simply email all the puzzles to the players on each team. Use a web conferencing tool, like Zoom to connect everyone together. Let them all work on solving the puzzles and ask them to email you the escape results. Easy.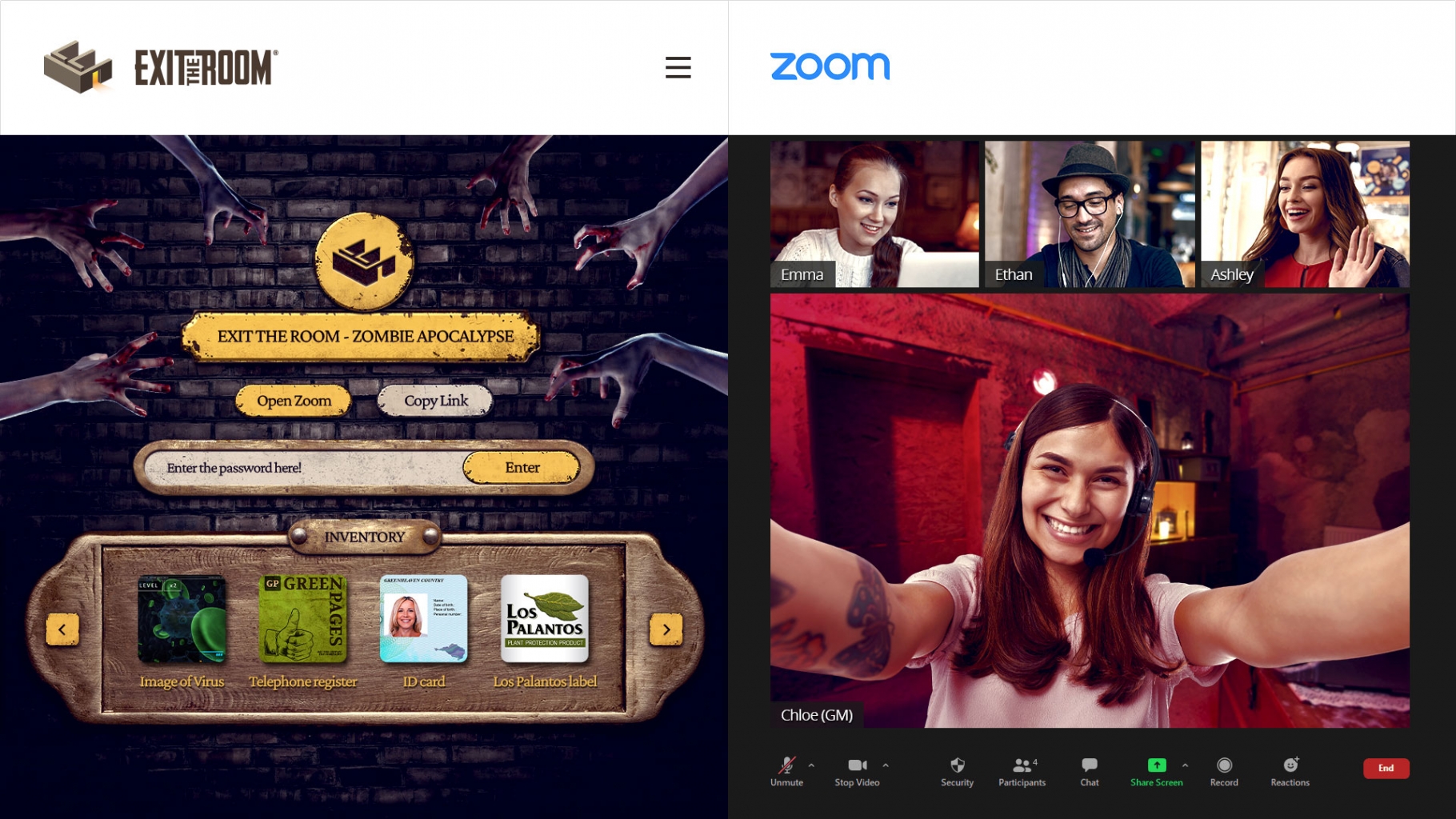 Join An Escape Room Game Online
Now if this all sounds like far too much work and effort, then there are lots of companies that specialize in online escape room games. many are businesses that were running traditional escape room events, but had to look for new ways to play in the light of the Covid-19 pandemic. You can either play the game directly in your browser or download an app onto your portable mobile device or PC. Using a video conference platform, the players can all meet their team members and collaborate about the game at hand. At the start of the game, everyone is "allowed" into the room, and from then on it's exactly the same as playing real world escape games. The online game will either be offering a virtual escape room, created from software, or a real live room. In the former you'll find your way around with your mouse (or by moving your finger on the phone screen) and clicking on various points within the room. With the latter, there'll be a "games master" situated in the real room, and he'll be wearing a camera. This will act as your eyes and ears. Just give him instructions and he'll do you bidding. All rooms are themed and offer a totally immersive experience for all those playing.
Escape Game Apps For Your phone
Finally we should talk about online escape room games and apps. If playing thrilling games filled with riddles and puzzles is your cup of tea, then whip out your smartphone and download a virtual escape room game. Most of today's offerings are available in for both Android and IOS. These virtual escape room games are a sure fire way to get the adrenaline pumping as you navigate through the point and click puzzles. We've listed some of our favorites here.
The Room
This is one of the most popular and probably one of the best escape room games ever made. It's creators, Fireproof Games, have created beautiful 3D rooms with a real eye for detail. There are a total of 10 scenarios to play out, and it's going to take much longer than a single day to complete. Just like a regular escape room, you'll be needing to collect puzzles in each room before moving forwards. Because all the levels are connected, you learn more about your circumstances as you progress. The premium version of The Room will set you back $10,00. But with this you can access new rooms as they come online as well as explore many other multiple features. All in all a fantastic virtual escape room experience nand well worth the spend.
The House Of Da Vinci
Based around the artworks of Leonardo Da Vinci, this game features brilliant game play for anyone who likes a real challenge. You'll need to find some pretty small objects around the various rooms, and their discovery is dependent on solving riddles within a given time. As you progress through the rooms the level of difficulty increases. The graphics are knockout and you really feel as if your inside one of the artist's original drawings. The premium version of this online escape room game costs $4.99. Another highly recommended buy.
The Toy Maker's Mansion
This is one of the latest entries into the virtual escape room genre. It takes your regular game and pushes the boundaries. as you work your way through the 144 rooms in 4 different mansions, make sure you leave each room in an orderly manner, as this will have an effect the next room. So though you might well be able to exit a room, any failure in the previous will create new problems for you in the new one. Each room requires a new way of thinking, so you'll be doing things completely differently from the previous rooms. Yes, it's a total brain scratcher! There's an adventurous narrative and it'l allow you one of two different endings. The basic version is free. There's a premium version which cost $4.99. This is probably a game for more advanced players.
Machinarium
This is a real favorite of ours. Essentially you're in control of a charming robot and together you'll explore and complete puzzles dotted around the various rooms. The riddles that the game sets you are both logical and infuriatingly difficult. Once you complete the challenges, there's a surprise "friend" waiting for you. Of all the games reviewed here, this is probably the most taxing with brain teasers. The graphic design is stunning and you can play for $4.99, but unfortunately it's only available on the App Store for IOS.