Live Avatar Online Escape Rooms
How about using the most popular Team Building program for recruitment purposes?
During the game, participants must collaborate, propose ideas, take initiatives, manage their stress levels, be attentive, etc. This is an opportunity for you to analyze each applicant's profile without filters and go beyond appearances, the likes of which you may find on a CV or during a job interview.

Putting applicants in certain situations allows them to let go and behave naturally. Personalities are very quickly revealed.
Live Avatar Online Escape Rooms explained
Live Avatar Online Escape Rooms are a new generation of escape rooms that are exactly like physical escape rooms, but can be played from anywhere in the world via a Zoom call. The Game Master is the team's Avatar, who's physically in a real brick and mortar escape room. Thanks to a live cam, the Game Master acts as the eyes, ears and hands for each team, as he folows their directions.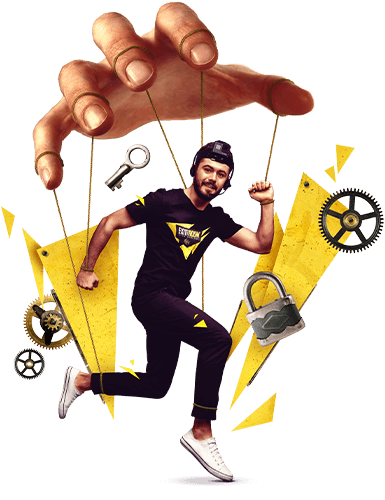 Your Candidates and your HR member and/or a psychologist join the game via ZOOM / MS Teams / Skype meeting
Our Game Master will welcome them and explain some useful information.
During the game players will need to solve puzzles and riddles to complete the game, displaying many of their characteristics and skills
Your HR member and/or psychologist can inspect the players and take notes about their behavior, skills, and performance during the game
In 60 minutes, you'll collect much useful information about their soft skills that can help you choose the best candidates.
Live Avatar Online Escape Rooms
are a great tool for HR purposes
Useful Recruitment Tool
A new, fun, and innovative solution, that catches the attention of the more skilled recruit
The next-generation solution in HR, that will help you stand out from your competitors
Helps you find the best candidates from among many applicants within an hour of gameplay
It's online so you don't need any extra equipment or staff to use it
Demonstrate problem-solving skills
Shows how well a candidate works in a team
Test how well candidates deal with high-pressure situations
See the real candidates
Can be branded specifically to you
Can be shaped to the needs of your company
Team Building
Improves communication within your team
Supports collaboration
Fosters creativity and problem-solving
An affordable and effective way to bring your team together
Helps you support team spirit
Makes great memories
Provides a sense of achievement
Keeps your team together in Home Office
Perfect assessment tool for
HR companies
Assessment centers
Companies with an HR department
Small businesses
Thousands of companies have chosen our services from over 50 countries