Live Avatar Online Escape Rooms
How about using the most popular Team Building program for Human Resources purposes?
Escape rooms are very popular team events that appeal to all human senses and can be adapted very flexibly to customer requirements. This makes our missions the perfect basis for experience-based trainings and can also be used as a cutting-edge recruiting tool.
Live Avatar Online Escape Rooms explained
Live Avatar Online Escape Rooms are a new generation of escape rooms that are exactly like physical escape rooms, but can be played from anywhere in the world via a Zoom call. The Game Master is the team's Avatar, who's physically in a real brick and mortar escape room. Thanks to a live cam, the Game Master acts as the eyes, ears and hands for each team, as he folows their directions.
Recruiting based on Escape Rooms
When you invite your applicants to join one of our missions – or even let us build a customized one – during the game, participants must collaborate, propose ideas, take initiatives, manage their stress levels, be attentive, etc. This is an opportunity for you to analyse each applicant's profile without filters and go beyond appearances, the likes of which you may find on a CV or during a job interview.

Putting applicants in certain situations allows them to let go and behave naturally. Personalities are very quickly revealed.

And the best? It's Online! We offer this service also completely online with our Live Avatar Online Escape Rooms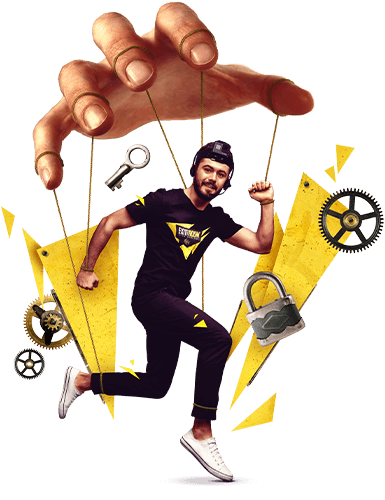 Your Candidates and your HR member and/or a psychologist join the game via ZOOM / MS Teams / Skype meeting
Our Game Master will welcome them and explain some useful information.
During the game players will need to solve puzzles and riddles to complete the game, displaying many of their characteristics and skills
Your HR member and/or psychologist can inspect the players and take notes about their behavior, skills, and performance during the game
In 60 minutes, you'll collect much useful information about their soft skills that can help you choose the best candidates.
Live Avatar Online Escape Rooms
are a great tool for HR purposes
Useful Recruitment Tool
A new, fun, and innovative solution, that catches the attention of the more skilled recruit
The next-generation solution in HR, that will help you stand out from your competitors
Helps you find the best candidates from among many applicants within an hour of gameplay
It's online so you don't need any extra equipment or staff to use it
Demonstrate problem-solving skills
Shows how well a candidate works in a team
Test how well candidates deal with high-pressure situations
See the real candidates
Can be branded specifically to you
Can be shaped to the needs of your company
Team Building
Improves communication within your team
Supports collaboration
Fosters creativity and problem-solving
An affordable and effective way to bring your team together
Helps you support team spirit
Makes great memories
Provides a sense of achievement
Keeps your team together in Home Office
Training/Edutainment based on Escape Rooms
is very suitable for product training
also for experience-oriented partner and customer trainings
can be implemented in existing escape rooms with customized puzzles added
can also be developed completely customer-specific for mobile use
trainings can be held 100% online, face-to-face and also hybrid
activates all senses and the learning content is memorized for much longer therefor
the teambuilding aspect is an integral part and a desirable side effect
is an efficient and inexpensive method, especially when there is a larger number of runs
Example sequences from a training session:
Thousands of companies have chosen our services from over 50 countries

Why Escape Rooms are an Amazing Tool for Recruitment Processes
Finding the right person for a particular job has never been easy. Research shows that around 46% of recruits will fail within 18 months. That represents a huge investment of both time and effort without any long-term returns. But you can't blame the candidates for this failure. One of the biggest problems in recruitment is that the methods used to weed out unsuitable candidates haven't kept up with the times.
Gen Y and Z Are Looking For More
In case anyone has been living under a rock, it's the 21st century. But many companies are still using the same recruitment methods used a generation ago. Personal interviews and resumes will only take you so far. In some ways, today's generation of millennials and zoomers are more sophisticated than yesterday's boomers. Your average Generation Z has only ever known a time of internet and digital media. Today social media platforms are used for recruiting and the video resume is no longer just for music artists. Generation Y and Z are looking to show off their individuality and their uniqueness. They are not looking for the same job for life. If we want to recruit the best of these, then perhaps we need to think more about their requirements.
The Gamification Of Recruitment
Having said that, it's true that many larger corporations are now beginning to incorporate newer and more technologically driven hiring techniques in their recruitment programs. A good example of this is that many companies now ask the recruit to make a small video clip about themselves. In the same manner, more and more companies are offering psychometric examinations of applicants, normally using a form of "gamification." This involves using elements from game design, game mechanics, and gaming principles, but in a non-game context, like recruitment. It's a great means of tapping into an applicant's natural desire to be competitive. And it allows the recruiter the possibility of evaluating many more aspects than they might find in a regular face to face interview.
Let The Real Candidate Shine Through
Another factor that's equally important but often overlooked, simply because there's no metric to measure it, and that's the candidate's personality. Escape room games are fun. This reduction of pressure normally found in the traditional interview process will help see behind the corporate mask that many recruits feel they have to wear. In other words, the game allows candidates to be themselves.

If we look at the escape games from the perspective of the recruit, then the following factors will be of importance:
Improved critical thinking
Increased capacity for collaboration
Strengthen communication skills
Enhanced creativity
Attract A Better Quality Of Candidate
Interestingly enough, offering this sort of recruiting process is more likely to attract a better quality of candidate. It shows a forward-thinking and innovative company, that's willing to embrace new techniques in its search for the best candidates. In a recent survey of 684 US employment companies and recruits, 70% expressed an interest in taking part in an escape room game as an assessment tool in the hiring process. That figure shot up to 82% when the same question was put to millennials.

In short, this is the sort of thinking that's attractive for millennials and zoomers.
Candidates Play Escape Room Games
A prime example of this new way of thinking can be seen in the use of escape room games as a tool for recruitment. Over the last couple of decades, the escape room industry has grown at an exponential rate and games can be found in all the major cities around the world. The idea of being locked in a themed room and having to solve riddles and find clues to escape within a set time limit can be repurposed for the recruitment industry. Many of the qualities necessary to complete an escape room game are those needed by many businesses. This represents a perfect example of gamification. Using the escape room game as a means of demonstrating a candidate's abilities.
Soft Vs. Hard Skills
As technology does more of the heavy lifting in businesses, hard skills are giving way to a greater focus on soft skills. A hard skill is something learned and quantifiable. Like learning a language or operating a machine. Soft skills are just another name for people skills and include things like leadership, motivation, teamwork, and time management. According to a LinkedIn survey, 92% of recruiters place more emphasis on soft skills and 80% of them said that soft skills are more important to a business. This brings us back to escape room games as a means of recruitment selection. We can list the following soft skills as being attributes that can be quantified whilst the games are being played:
Show logical reasoning and problem solving
Critical thinking skills
Capable of teamwork
Operating and remaining focused under pressure
Time management
Leadership and delegation
The Live Avatar Online Escape Room
Just to illustrate how fast the world is moving forwards, even escape room games for recruitment have made massive strides in improving the whole recruitment process over the last year. A great example is that companies like ExitTheRoom can create a Live Avatar Online Escape Room from scratch. For example, Nokia required an escape room made with their own products used as part of the game-flow. Continental Tyres required their reception, locker room, and factory floor rendered as an escape room game. Diageo wanted a game mainly focused on recruitment, with PR elements and the ability for a deeper dive into the data after the game was completed.
A Game To Suit Your Business
These Live Avatar Online Escape Room games were tailor-made for a client's business and incorporated many of the attributes those businesses were looking for in a potential candidate. The puzzles and game-play can be tweaked to highlight the most important factors that apply to that particular company or industry. This gives the recruiter a huge amount of relevant data on which to make a better hiring decision. The Journal of Nursing Education reports on a game developed for the US nursing industry which was suffering from a chronic shortage of recruits. An escape room game was designed with four rooms incorporating the main nursing concepts, along with a variety of patient health conditions. Would-be recruits worked as teams solving health care puzzles, allowing them to progress through the game. Since its inception, the game has branched out into other health care sectors and has proved a remarkable tool in both recruiting nurses, as well as attracting a new one.
Get Ready! The Future Is Coming.
Finally, we should speak of the elephant in the room...Covid 19. For many months doing anything face to face has not been an option. With many businesses having their workers forced to work from home, using the various conferencing apps has become almost second nature for many. Because escape room games are now also played remotely, using them as a recruitment tool, is a logical evolution of the traditional methods of the interview.