VIP Branded Virtual Team Building
Have your own custom virtual teambuilding programme!
We run the world famous Live-Avatar online escape rooms, loved by thousands of companies from over 50 countries.

Now we can create your own branded games!
WHAT ARE LIVE-AVATAR ONLINE ESCAPE ROOMS?
Live-Avatar Online Escape Rooms
Live Avatar Online Escape Rooms are a new generation of escape rooms that are exactly like physical escape rooms, but can be played from anywhere in the world via a Zoom call. The Game Master is the team's Avatar, who's physically in a real brick and mortar escape room. Thanks to a live cam, the Game Master acts as the eyes, ears and hands for each team, as he folows their directions.
60 minutes game length
Fun Factor 10/10
4,96/5 based on player reviews
Recommended by Amazon, Apple, Goolge, Nike and many more
9 different superfun themes
Step 01
Join a Zoom call with your mates - even from different locations!
Step 02
Our game master is at the venue. Your task is to guide and control her for up to 60 minutes.
Step 03
Cooperate with your friends and try to solve the mysteries by collecting clues!
What we give
We hand you your own branded Team Building system for Live Avatar online escape rooms:
We create a website branded for your company. (Logo and colours of your brand)

The site contains

Information about the games
A professional booking system (for easier organizing)
A game interface with your company logo
Confirmation email tailored to your needs

This whole system can be integrated into your own website on a sub-domain (or can run totally free on any choosen domain)
All the work (development, setup, operation) is organized and done by us. Sit back and relax as we do the heavy lifting
Enjoy your own new supercool branded programme with your employees and partners.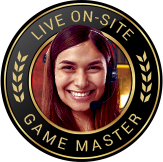 This is a remote adventure where players control
our real on-site game master. This is not software!
How it works
Price is 30 EUR/player
There is a setup cost which depends on the companies needs. This whole amount can be used as game credits
Games are played in 6-12 person groups
13 games can be run parallel, so 150+ players can play at once
Once you have your own custom system, you can use it for as long as you wish
The bookings can be used as you wish, either by anyone in the company, or only by HR when they organize the teambuildings... (e.g. you can purchase 100 games, and until they are all used, your employees can freely book any game at any time. Or HR can arrange your teambuildings with greater control directly within your new system)
Games can be played around the clock
Games are run in English and German language
How is this beneficial
to your business?
You can offer a top virtual teambuilding activity under your own brand
A cool and fresh interactive challange for all your colleagues and partners
Motivational and fun for your employees
Improves communication and collaborational skills
Fosters creativity and problem-solving
Helps with team bonding during Home Office work
Connects your colleagues, no matter how distant apart, because it can be played from anywhere in the world
Lifts team spirit and makes great memories
Highly cost effective when compared to the value of the product
Our VIP Branded Online Escape Rooms
are perfect for:
Companies of all sizes
Companies effected by Covid
Companies operating at different locations
Conference and conventions
HR specialists
Assesment Centers
How to start?
Just contact us and we'll get in touch with you in a few hours.
We only need your logo. Once we have it, we can start
developing your system, which takes between 2 - 4 working days.
We will create your new website, booking system, and game interface
We will also create a tailored confirmation email, with your included text and information.
Once the system is ready and deployed,
it's yours to use forever.
Branded Virtual Team Building
In today's world, where ever you look, you'll find a brand looking back at you. Brands are everywhere and each one carries its own distinct message and identity. Essentially, a brand is the very essence of the company it represents and should be treated with care and respect. It takes a lot of time and effort to build up a brand and make it stand out for all the right qualities. Conversely, a brand can be trashed within minutes if a company goes off message or does something which debases the values the brand represents.

Within a business, every decision made will have some consequences for the brand. Unfortunately, many of those making changes are blissfully unaware of the effects these can have on the public perception of the brand's value. In this age of social media, where the slightest slip-up can sink or cancel a brand, there's no more room for error or sloppy thinking. This is why today, more and more companies are focusing on brand awareness within the company employees. And many larger businesses will have dedicated "branding" teams, whose sole purpose is to both protect and promote the company's branding.

Here at ExitTheRoom, we recognize the importance of solid branding due to our own business concerns. In order to help both companies and their clients focus on their own unique brands, whilst at the same time maintaining brand awareness, we have devised escape room games that can be branded to whatever degree the customer requires. Our top event includes a re-branding of all aspects of both the game and the gameplay. From your own uniquely branded website advertising the games to the branded email confirmations to the actual game itself having your branded interface.

The nature of escape room games is to encourage communication and a team spirit. In fact, that's what makes these games so popular with companies looking for team-building events. Promoting your brand within such events that also encourage the same culture as reflected by the brand itself, is a great means of highlighting and amplifying the brand's importance within the company. A good brand is a mirror through which customers see themselves. Its value is customer-centric. Playing in a branded room will help your employees realize, through bonding and having a wonderful time, that the game and the aims of their business are more aligned than they previously envisaged. That the branding itself has an important role to play.

The whole escape room industry is relatively new. Because of this, the industry tends to be more forward-thinking, always with one eye on the latest technology, whilst at the same time, trying to recreate the most immersive gaming experience. For the players, it's a thrilling 60 minutes of stress, fun, and teamwork. After the game, there's a palpable buzz as the players recount the trials and tribulations of trying to escape within the time frame. To that end, as a means of brand promotion and awareness, we feel that playing our escape games is second to none.

Whatever your business goals, you might be surprised as to how well they match up with the structure of our games. Through our games, we are, like all businesses, focused on good communications. On the teamwork and the positivity necessary to get things done. In many ways, we are the perfect match for brand goals. Not only by promoting them to new or existing audiences, but also because we all share the same values.